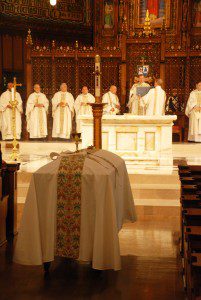 Three distinct rites are provided at the time of the funeral; the vigil, the funeral Mass, and the committal. Each rite serves an important purpose in guiding your family and friends through loss, grief and the journey of healing. While all Catholic funerals share a similar format, the celebration of remembrance of the loved one is unique and personal to the individual's life.
Why a vigil?
In time of loss the family and community turn to God's Word as the source of faith and hope, as light and life in the face of darkness and death. The prayers call on God to bring the deceased into the communion of saints. The whole ceremony is reminiscent of the Easter Vigil when, in the darkened church, we await the glorious resurrection of the Lord.
The funeral Mass is the principal celebration of the Catholic funeral where family and friends join to reaffirm that life has not ended, life has changed. It is the memorial of Christ's sacrifice, and is a reminder that we are one with Christ in life, death and Resurrection. The Mass is celebrated in the church with the body present, although cremation is permitted. At this time, family and friends give thanks and prepare to part with the deceased.
The committal is the final farewell for the family at the cemetery. We commit the body of the departed to God's eminent mercy.
Fr. Shane will walk you through the process of planning a funeral. The Bereavement Committee from the St. Elizabeth Altar Society will assist with providing food.
Funeral Ministers
Members of this ministry share the love of Christ through their willingness to serve at funeral masses at our parish. There are several facets of this ministry ranging from praying with the family before their loved one is taken from the funeral home to the church, serving as Lectors, Extraordinary Ministers of Holy Communion, or choir members for funeral masses. To help in this ministry, contact Donna Sattler at 409-727-8874.