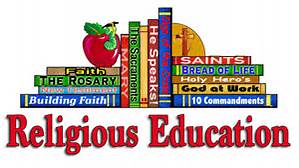 Religious Education Registration Forms:
Please click the link below to fill out a registration form for your child (one needs to be filled out for each of your children). Thank you.
2020-2021 Registration for Pre K-5th Grades
2020-2021 Registration for 6th-8th Grades
Any student that has not attended the previous year's Religious Education classes must fill out a new student form. Please click the link below to fill out the form. New students must provide a copy of their Baptismal certificate at the time of registration.
The tradition of Catholic Education, in its many expressions, respects the sacred quality of life as an expression of the God who reveals.
We teach and announce the Good News through the following educational programs:
Religious Education
St. Elizabeth Religious Education program is a program based on the traditions and teachings of the Catholic Church. We offer Religious Education classes from K-8th. These classes prepare the youth of the parish to participate in the sacraments and to become active and engaged members of the parish community. You must register with the Religious Education Office to attend these classes.
Religious Education Teachers/Aides
We are always in need of religious education teachers and aides who are willing to commit to teaching the youth of our parish the teachings of the Catholic Church and to share their own faith life with those whom they are teaching. This ministry is open to all high school and adult individuals who love children, are currently practicing their Catholic faith, and willing to share it with others. All volunteers working with children must attend a diocesan Protecting God's Children session and submit forms for a background check.
Vacation Bible Camp
Every summer we provide a week where young children have the opportunity to come and enjoy themselves and have fun in a positive Christian setting and learn about the love of Christ. VBC is open to all children K-5th. We are always in need of teens, young adults, and adult volunteers to participate and help make VBC and exciting event. Vacation bible camp is held the second week in July, Monday-Thursday!
CCD Curriculum (1st-5th Grades)